Mercedes, C.F.O.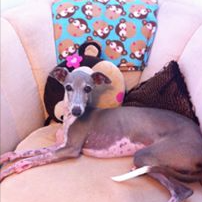 Breed: Italian Greyhound
Position: Co-founder & CFO
Favorite Color: Bubble-gum Pink
Favorite Book: "If You Give a Mouse a Cookie …"
Favorite Movie: "All Dogs go to Heaven"
Favorite Food: Carrots
Favorite Quote: "To the world, you may be one person,
To one person, you may be the world." -by: Unknown
Mercedes takes care of our financials and bookkeeping. Plus, she supervises all pdf and download creations. Links below.
On her days off she is often found relaxing in our living room or taking a break near a sunny window.