Haley, Marketing Director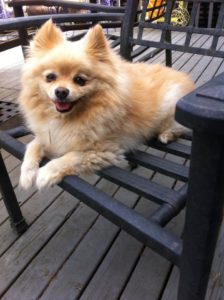 Breed: Pomeranian
Position: Marketing Director
Favorite Color: Any shade of Blue
Favorite Book: Peter Rabbit
Favorite Movie: "Lady & the Tramp"
Favorite Food: Lobster Puffs
Favorite Quote: "May the saddest day of the future
Be no worse than the happiest day of the past" -Irish Proverb
Haley is in charge of our marketing and creative advertising campaigns. Listen to her talk about our awesome facility!
Her roles include our Pinterest and YouTube. Links below.
She spends her down time chatting it up with guests and hanging out in our park-like yard. She also enjoys climbing onto anything she physical can.