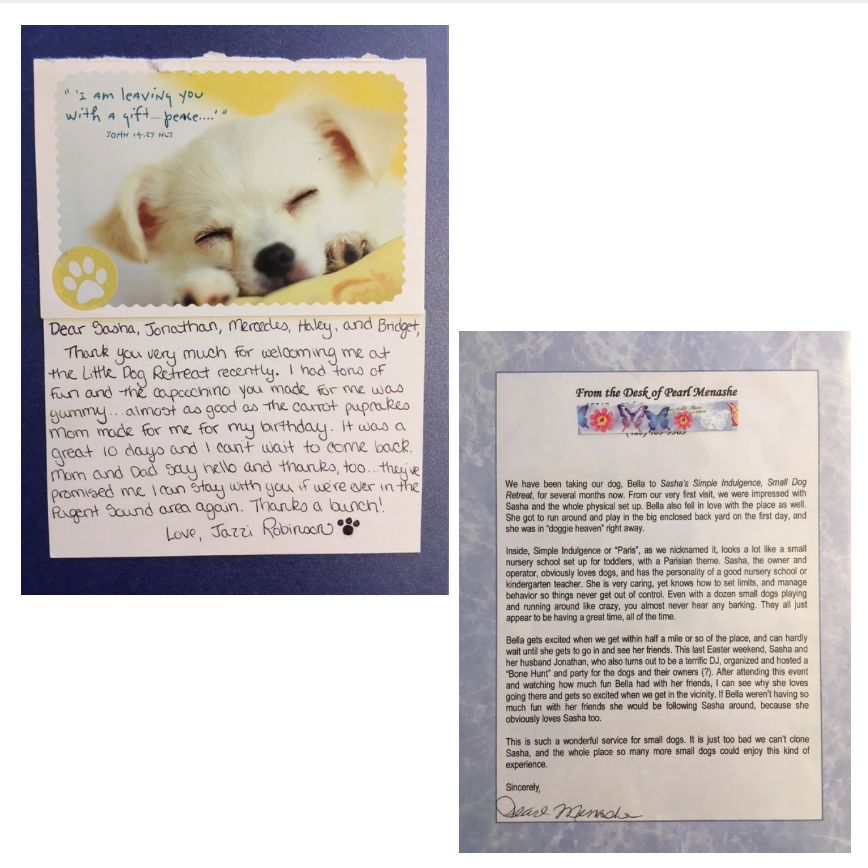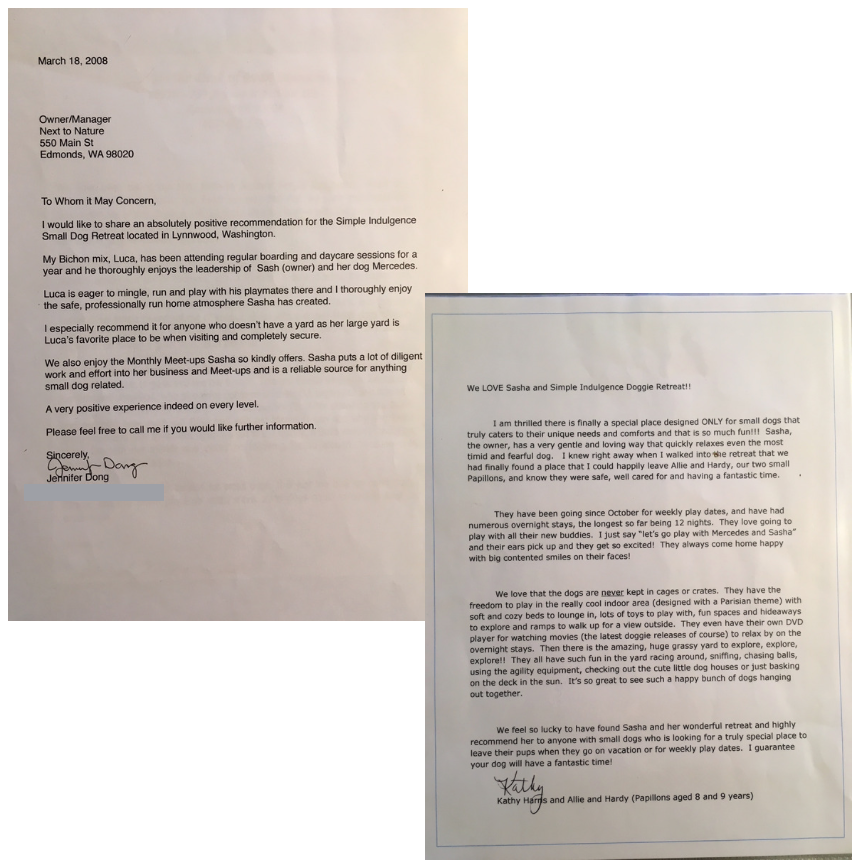 Allie & Hardy, Papillons
We LOVE Sasha!
I am thrilled there is finally a special place designed ONLY for small dogs that truly caters to their unique needs and comforts and that is so much fun!!! Sasha, the owner, has a very gentile and loving way that quickly relaxes even the most timid and fearful dog. I knew right away when I walked into the retreat that we had finally found a place that I could happily leave Allie and Hardy, our two small Papillons, and know they were safe, well cared for and having a fantastic time.
They have been going since October [2008] for weekly play dates, and have had numerous overnight stays, the longest so far being 12 nights. They love going to play with their new buddies. I just say "let's go play with Mercedes and Sasha" and their ears pick up and they get so excited! They always come home happy with big contented smiles on their faces!
We love that the dogs are never kept in cages or crates. They have the freedom to play in the really cool indoor area (designed with Parisian theme) with soft and cozy beds to lounge in, lots of toys to play with, fun spaces and hideaways to explore and ramps to walk up for a view outside. They even have their own DVD player for watching movies (the latest doggie releases of course) to relax by on the overnight stays. Then there is the amazing, huge grassy yard to explore, explore, explore!! They all have such fun in the yard racing around, sniffing, chasing balls, using the agility equipment, checking out the cute little dog houses or just basking on the deck in the sun. It's so great to see such a happy bunch of dogs hanging out together.
We feel so lucky to have found Sasha and her wonderful retreat and highly recommend her to anyone with small dogs who is looking for a truly special place to leave their pups when they go on vacation or for weekly play dates. I guarantee your dog will have a fantastic time!
Kathy H. for Allie & Hardy, Papillons
Play-date, Daycare & Overnight Care
Carmen, Italian Greyhound
Absolutely fabulous. Sasha the owner does not take in a large number of dogs. The place is spotless, the backyard is large and has many doggie houses and agility equipment for fun. My italian greyhound never comes home stinky from the Little Dog Retreat. Iíve taken my dog to other daycares and she comes home smelly. The free-run setting is great and the dogs get to go outside every few hours and run around. There are no dogs over 20 lbs so my little one is playing with dogs around her own size. The best daycare for small dogs in Seattle (imho).
(As posted on Yelp)
Mona for Carmen, Italian Greyhound
Daycare & Overnight Care
Gracie, Italian Greyhound
I wouldn't feel comfortable leaving my Italian Greyhound (Gracie) with anyone else! IG's need special attention that only people who own them can understand! Sasha and her team take special care of Gracie by spoiling her, cuddling with her and making sure she's warm! Sasha takes pictures while we're away on vacation and posts them so that we can see how happy Gracie is while we're gone! It's a truly different atmosphere then any other place you can take your pup. She treats every dog like a little child and knows all of their quirks and habits. The yard is huge with lots of things to play with and jump on, over and around. And the dog area inside truly spoils all the kids with lots of pretty beds and things to play with. Sasha is also very organized. She keeps all of her records up to date and runs her business very well!! We wouldn't take our IG's any where else!(As posted on Facebook)
Talia for Gracie, Italian Greyhound
Overnight Care
Millie & Mouse, Italian Greyhounds
Millie and Mouse have been staying at the Little Dog Retreat off-and-on for a few years. M&M love it! They have the best time with Sasha, her girls, and the other guests. When we pull up at the Retreat, M&M are so excited to get inside and see everyone that they practically drag me along behind them. M&M wouldn't dream of staying anywhere else!! (As posted on Facebook)
Shannon for Millie & Mouse, Italian Greyhounds
Daycare & Overnight Care
Fiona, FizzGig, Jojo & Bianca, Pomeranians
To Whom It May Concern,
We own two Pomeranian's (now 4) Fizz Gig Boo and Princess Fiona +Jojo and Baby B. who upon multiple occasions have had the wonderful opportunity to stay at the Little Dog Retreat for both overnight care as well as weekly daycare. Our dogs throughly enjoy the cute French theme dog city that has been specially created with the very small dog in mind. All we have to do is say that we are going to go see Sasha and Mercedes and they jump in excitement.
The owner, Sasha is great with our dogs, they always come home happy and it is obvious that they love her in return. I would suggest her to anyone with a small dog as her facility is a safe-haven for dogs that are timid, shy or scared of bigger dogs. Her crate and kennel free enrichment allows dogs that would normally be too nervous to socialize, relax and actually play without precautions.
Respectfully,
Joel and Jennifer
Daycare & Overnight Care
Roni, Yorkshire Terrier
This is my GLOWING recommendation for the LITTLE DOG RETREAT and owner Sasha Reinke.
My Yorkie, Roni is my child and I was very concerned about where I leave him when I am away. Sasha has created the most amazing atmosphere for small dogs. She cares for each dog as if it is her own, paying attention to every detail to ensure a fun, safe and relaxing home away from home for our dogs.
Since I have found the LITTLE DOG RETREAT, I have not only stopped worrying about him while I am gone, I am actually happy that we both get a vacation! He LOVES it there, and I have to beg him to actually come home with me!
I will continue to recommend the LITTLE DOG RETREAT to anyone that loves their small dog.
Joy for Roni, Yorkshire Terrier
Overnight Care
Tulip & Sherlock, Miniature Doxins
"If you want the best in daycare and overnight boarding for your 15 pound and under pup, The Little Dog Retreat is the place for you. I went to 8 different facilities before I decided on The Little Dog Retreat, and none of them compared to Sasha's place. My two dachshunds LOVE going there because they are not caged, they get to run and play outside, have rest time in the luxurious Paris themed pup room, get lost of treats and rubs and attention and wonderful socialization. I left them there for 3 weeks when I went abroad last fall and did not worry about them for 1 minute because Sasha is very knowledgeable and caring and the pups just adore her and the other dogs. It is also a great environment for them to learn socialization skills." (As posted on Yelp)
Karin for Tulip & Sherlock
Daycare & Overnight Care
Tucker, Chihuahua
"I wanted to post a review for Sasha and the Little Dog Retreat because this was the only place I felt safe leaving my baby Tucker with for a week, while I went off to Hawaii to get married and have my honeymoon. It was the first time I have been away from him for this long and I was so nervous about leaving him. I never leave him at friends' or familys' house's because it really takes someone with small dog experience to keep a small dog safe. On top of that, I couldn't bare to put my little guy in a kennel type boarding situation… where he would feel locked up. Also, I think those places see so many different animals that your dog is just another $ $ in their account. Sasha has such a cute place set up for the pups, and for an over-worried fur-mom like myself… her double entrance gate and knowledge of small dogs really gave me the security I needed to enjoy my time away from my fur baby. Also, his social skills have greatly improved since going to the Little Dog Retreat and I attribute that to him having time away from his helicopter mom and being forced to socialize on his own with the other pups. All around 5 stars. Love this place." (As posted on Yelp)
for Tucker
Daycare & Overnight Care
Zeus & Daisy, Pugs
Zues had a great time in Paris and we're so glad we found The Little Dog Retreat. Zues used to always come home from the kennel sick because he could never relax with all the other dogs around. Plus, we were always concerned that a larger dog might eat him. =) After his stay in Paris, he came home happy and healthy! What a relief to have found The Little Dog Retreat. It's so wonderful to have a place just for the little dogs! Thanks!
Bug, Pug-mix
Overnight Care
"Thanks so much for watching the Bug and taking such good care of her! It gives me peace of mind to leave her with such a dedicated and thoughtful caretaker. Thanks"
-Marissa for Bug
Overnight Care
Tia, Yorkie  & Snowflake, Teacup Pomeranian
"The Little Doggie Retreat is amazing! My family has been using Sasha's services for years. It is wonderful knowing our dogs are in such great hands. When we drop them off they are so excited to be there and when we pick them up they don't want to leave. They have so much fun. Sasha gives them a lot of attention. She also creates activities for them. We couldn't ask for better care! We are so grateful. Sincerely"
-Sabrina for Snowflake and Tia
Overnight Care
For more great reviews visit our Facebook page HERE!